Bone Cancer in Dogs
Osteosarcoma is the most common type of primary bone cancer seen in dogs, accounting for over 95% of all bone tumors. This aggressive condition leads to the malignant, abnormal growth of immature bone cells.
Osteosarcoma spreads throughout the body, causing other health issues and can quickly become fatal. Nonetheless, there is reason for hope: if diagnosed early, life-saving surgery may be possible to remove the cancerous limb.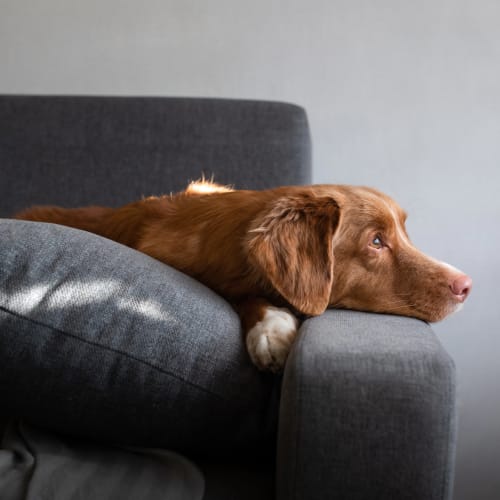 Veterinary Oncology
If your dog is showing signs of bone cancer, book an appointment with a veterinary oncologist immediately. Vets specializing in oncology will have the appropriate technology to correctly diagnose bone cancer and offer an effective treatment plan.
Spotting Signs of Bone Cancer in Dogs
Although osteosarcoma is a very serious condition, the signs of bone cancer are so subtle that you may not recognize them straight away, especially in the early stages of the disease. Typically, bone cancer will appear in the dog's front legs however, their jaw, facial bones, vertebrae, ribs, and rear legs may all be affected.
Symptoms of bone cancer can include:
Indications of severe pain
Swelling in the ribs, spine, legs, or jaw
Loss of appetite
Growth of a mass on the dog's body
Respiratory distress
Lethargy or weakness
Limping or lameness
Discharge from the nostrils
When to See Your Vet if You Suspect Your Dog Has Bone Cancer
Spotting signs of bone cancer in your dog should always be taken very seriously because of the condition's propensity to spread quickly to other organs and cause fatal conditions such as loss of appetite and respiratory distress.
To give your dog the best chance possible, it is essential to keep a close eye on your dog's overall health and immediately book an appointment with your vet if you notice any of the symptoms listed above, even if they are subtle.
Treatment & Prognosis of Bone Cancer in Dogs
Every dog is different and there are numerous factors such as age, weight, and where the tumor is located, which will influence your dog's prognosis. If your dog is diagnosed with osteosarcom your vet will develop a specialized treatment plan to coordinate treatments and help your dog achieve the best possible outcome.
Dogs diagnosed and treated for bone cancer may live for another 1 - 6 years. Unfortunately a bone cancer diagnosis is never an easy journey and often proves fatal even when treated with surgery and therapy.
New therapies and procedures are always being studied. Your vet will take the time to discuss recent bone cancer treatment developments with you so that you are able to understand your dog's treatment options. 
If your dog is displaying any signs of bone cancer, or another serious condition, contact your vet immediately, or contact our specialist and emergency vets at Carolina Veterinary Specialists in Matthews. Our veterinary oncology specialists will work closely with your regular vet to provide the best care possible for your dog.