Advanced Cancer Care for North Carolina Pets
The oncology department at Carolina Veterinary Specialists in Matthews uses cutting-edge diagnostics and treatments to provide pets with cancer the best possible care.  
PLEASE NOTE: A referral from your primary care veterinarian is required before making an oncology appointment.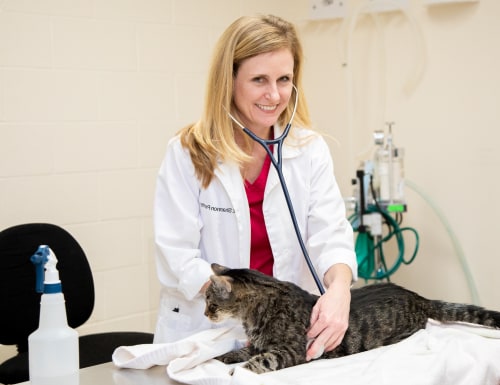 Our Oncology Services
Cancer. It's a disease that affects humans and animals, and it can affect even the healthiest ones. The good news is that it can be treated with a number of advanced methods.
Our veterinary oncologists are committed to providing care and treatment of pets with cancer, and support for the individuals and families that love them. They work closely with our board-certified radiation oncologist and other specialists to ensure your pet receives the best possible care. 
After reviewing your pet's medical history and diagnosis we will sit down with you and your pet to discuss the disease, staging (additional diagnostics), treatment options, side effects and prognosis. 
Our Board-Certified Veterinary Oncologists
A board-certified veterinary oncologist has completed extensive training after veterinary school that focuses on oncology (how cancer develops and how to treat it). Throughout this training, an oncologist is also required to complete an internship and specialized residency, pass comprehensive exams, and complete publication requirements to become board-certified in Medical Oncology by the American College of Veterinary Internal Medicine (ACVIM).
Meet Dr. Claudia McFadden           Meet Dr. Shannon Parfitt           Meet Dr. Timothy Estabrooks
Staging (Additional Diagnostics)
After a diagnosis of cancer, additional diagnostic testing can help to determine the extent of cancer in the body, which allows us to optimize treatment recommendations and better predict prognosis. 
Treatment Options
When staging is complete our team of specialists will discuss all the appropriate treatment options. Cancer can be treated by several different therapies or combination of treatments including surgery, chemotherapy, radiation therapy, immunotherapy, targeted therapies or palliative care when appropriate.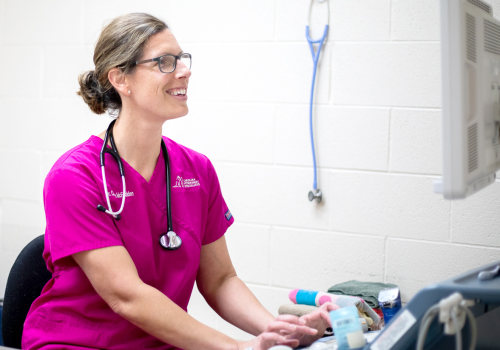 Financial Support For Veterinary Oncology Treatments
Dr. Claudia McFadden developed Murray's Fund to help clients financially afford their pet's oncology treatments. If your pet has been diagnosed with cancer, check out how Murray's Fund can help.