Veterinary Neurology & Neurosurgery in Matthews
Neurological Care for Pets in Matthews
The board-certified veterinary neurologists at Carolina Veterinary Specialists in Matthews specialize in the diagnosis and treatment of disorders of the brain, spinal cord, muscles and nerves of animals. 
Please Note: A referral from your primary care veterinarian is required before making a neurology appointment.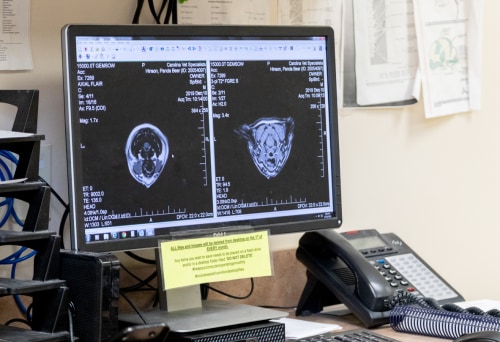 Our Neurology & Neurosurgery Services
At Carolina Veterinary Specialists in Matthews our board-certified veterinary neurologists provide comprehensive medical and surgical care for pets with neurological conditions.
Once you are referred to our hospital, the neurologist will perform a detailed neurological exam to determine if, and what part of your pet's nervous system is affected.
After the exam, the neurologist will discuss the most likely causes for your pet's issues, including diagnostic tools and tests necessary to determine the exact cause and available treatment which may include medical therapy, surgery or intensive care. 
Our Board-Certified Veterinary Neurologists
A board-certified veterinary neurologist has graduated with a doctorate in veterinary medicine (DVM), and has gone on to complete additional specialized training in the field of veterinary neurology. The training, in the form of a residency, exposes the veterinarian to a variety of neurological diseases affecting a variety of animals, which is followed by an extensive examination process.
Common Neurological Conditions
Neurological conditions commonly treated by a veterinary neurologist include:
Seizures
Balance Problems
Intervertebral Disc Diseases
Spinal Pain
Behavioral Changes
Tremors
Leg Paralysis and/or Weakness