Radiation Therapy for Pets in Matthews
At Carolina Veterinary Specialists in Matthews, our radiational oncologist uses a linear accelerator to provide radiation therapy as a treatment option for cats and dogs with a cancer diagnosis. 
Please Note: A referral from your primary care veterinarian is required before making an oncology appointment.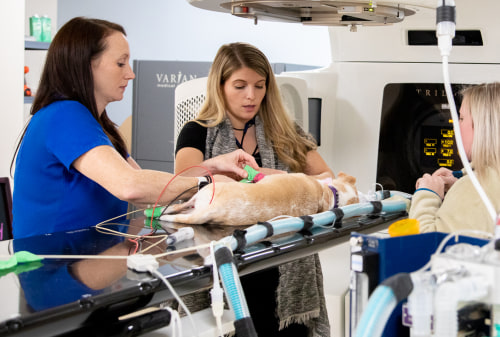 Our Radiation Oncology Services
Radiation therapy can be used alone or combined with surgery and / or chemotherapy. Our treatment goal is to deliver the optimal doses of radiation necessary to kill cancer cells without damaging healthy tissue.
Our in-house board-certified radiation oncologist has extensive training and experience in treating cancers with radiation while limiting exposure to normal tissues, minimizing side effects.
She works closely with our veterinary oncologists, surgeons, neurologists and other specialists to offer comprehensive care for your pet companion.
Our Board-Certified Radiation Oncologist
A board-certified veterinary radiation oncologist has completed at least 2 additional years after veterinary school in radiation oncology training. Throughout this training, a radiation oncologist is also required to complete an internship and specialized residency, pass comprehensive exams, and complete publication requirements to become board-certified in Radiational Oncology by the American College of Veterinary Radiology (ACVR)
Linear Accelerator Radiation Therapy 
At Carolina Veterinary Specialists in Matthews, we have an in-house linear accelerator (LINAC), a device most commonly used for external radiation therapy for patients with cancer. 
Using the linear accelerator, our radiation oncologist can create radiation beams that are shaped to the aim at the pet's tumor while avoiding as much normal tissue as possible.
It delivers high-energy x-rays to a particular part of the body, and can be used to treat any part of the body. Treatment is usually given over several sessions, and each session may take 15 to 30 minutes or sometimes longer.